The Nissan NV Passenger Van
We didn't set out to create just a passenger van. We created the Nissan NV Passenger van as a vehicle that redefines the concept altogether.
It starts with the ability to rearrange and remove seats to create 324 possible configurations. The low sliding door and intelligent seat belt design allow passengers to enter and exit with ease.
An SUV-like design provides more front passenger comfort and space, along with easier maintenance. In addition, drivers have front and rear sonar and a rearview monitor system to provide guidance in tight spaces.
The NV Passenger van. Innovation that works.
One passenger van, nearly limitless possibilities
Your needs change fast. And the new NV Passenger Van was designed to adjust to them quickly. Whether it's the 324 possible interior configurations, the SUV-like cabin comfort or the safety and technology features, this is one vehicle ready for whatever you may have in store for it.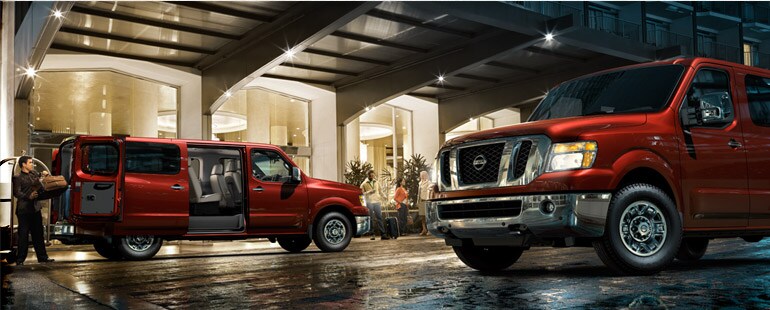 An interior flexible enough for virtually any task
One step inside the new NV Passenger Van and you'll quickly see how different it is. The lack of seat belts hanging from the ceiling and ease of getting in and out is immediately apparent. Plus you can add and remove seats quickly to create up to 324 possible interior configurations.

The interior that's a blank canvas
With 324 possible configurations, you can create an interior specifically designed to meet your needs. Whether you have to carry fewer people or more cargo, the seating arrangement can easily be reconfigured to meet your requirements.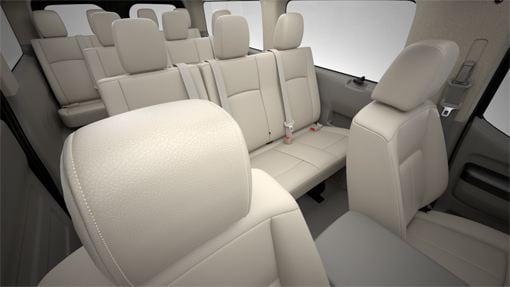 Integrated seatbelts, easier entry and exits
Conventional vans normally have rear seatbelts attached to the ceiling or pillars. That design makes getting in and out of the vehicle difficult. Nissan engineers confronted that issue head on by integrating the rear passenger seatbelts directly into the seat itself. That setup allows passengers to enter and exit the vehicle more easily.

A new single- and dual-seat benchmark
Interior configurations are somewhat limited in conventional passenger vans because of their large benches. However, the new NV Passenger Van uses one- and two-person seats. These give you increased flexibility to create your own borders and boundaries. Removal doesn't require tools and there are even wheels on the fourth row seats to make moving easier.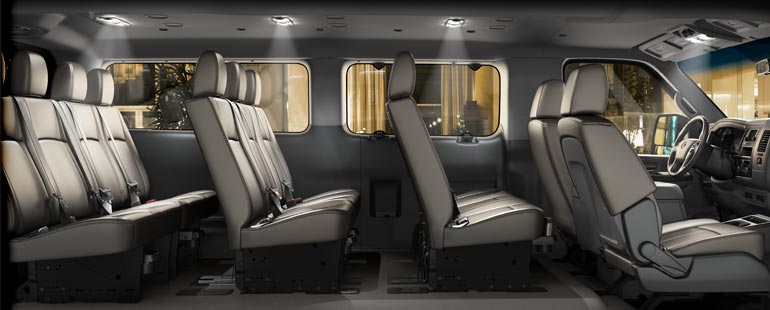 An illuminating experience for your passengers
Sometimes your passengers need additional light to help them see better. That's why all rear rows have two reading lamps, for a total of twelve. Each one turns on with a simple push.

The power you need, in two forms
From cell phones to portable video games, everybody carries around some sort of electronic gadget. Nissan engineers made powering them easier by including 12V outlets up front and in the third row. And for larger items like laptops, there are two available 120V outlets up front and in the rear cargo area as well.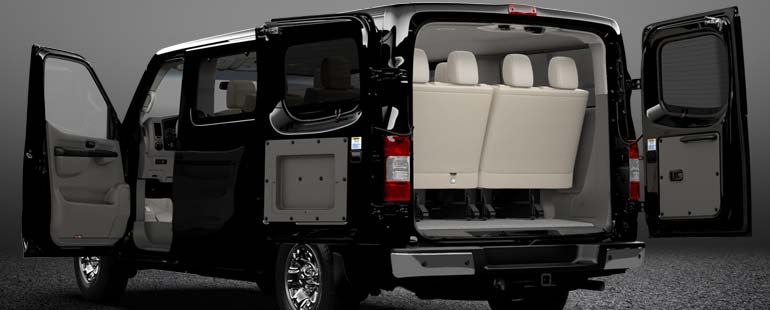 Large doors that open wide and stay that way
You would think large doors on a passenger van would be a given. Oddly enough that's not the case. That's why the new NV Passenger comes with rear cargo doors that secure at 90° in tight spaces. They also open to 243° wide when you need additional room. Mounted magnets help keep the doors from closing on hills or in windy conditions. As for the side door, it slides open to over 40 inches wide to give your passengers plenty of room to enter and exit.

A cabin designed for one person, you
As a driver, you have many tasks and the cabin of the new NV Passenger Van was designed to help you do them well. There's plenty of space and storage available for maps or a first aid kit. And when it comes time to hit the road, you'll be sitting in a comfortable, yet durable seat with a wide view of the road.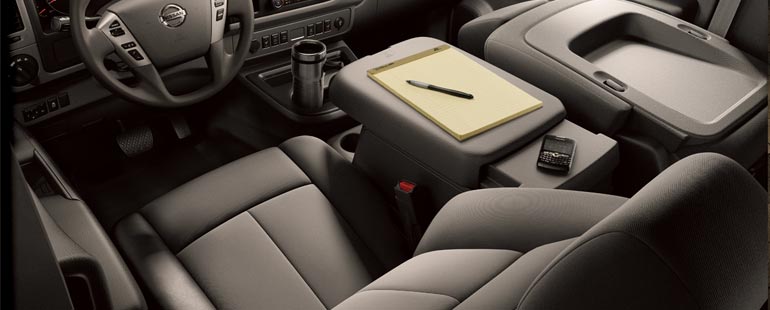 The ultimate drivers seat
The larger, low-fatigue seats help keep you comfortable on your journey. Due to the new NV Passenger Van's SUV-like design, the engine doesn't intrude into the cabin. This setup creates superior legroom, helps eliminate awkward seating positions and reduces heat and noise.

Storage as smart as you are
At the heart of the new NV Passenger Van's in-cabin storage is the center console. Underneath the top cover, there's enough space for large gadgets. Above it, a table slides both forwards and backwards out of the lid. Both 12V and available 120V outlets are ready to power whatever equipment you have. You can even remove the console if you need extra space up front For additional storage, there are under-seat pullout trays ideal for smaller items such as extra power cords.

Quality engineering, exceptional performance
Nissan has consistently been a leader in advancing automotive engineering and performance. The new NV Passenger Van is the latest vehicle to reap the benefits of that experience. With multiple engine options; class-leading brakes (popular models in WardsAuto.com's Full size van segment); a full-length, fully boxed ladder frame and more, this is a vehicle ready for you, your passengers and their gear.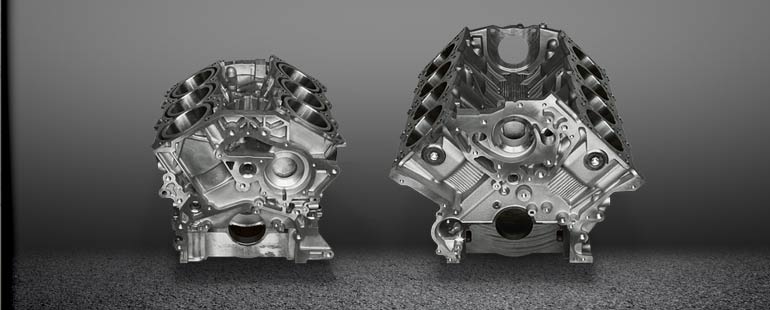 Two engines, two powerful options
At the heart of the new NV Passenger Van are two potent and reliable power plants. Both the 261-hp, 4.0L V6 and available 315-hp, 5.6L V8 feature the technologically advanced Continuously Variable Valve Timing Control System (CVTCS). It constantly makes adjustments to deliver the performance or efficiency you need.

Heavy-duty brakes for heavy-duty stopping power
The brakes on the new NV Passenger Van are designed to help you confidently stop whatever loads you're carrying. This is accomplished through the vehicle's massive brakes, the largest amongst all passenger vans and SUVs (popular models in WardsAuto.com's Full size van segment).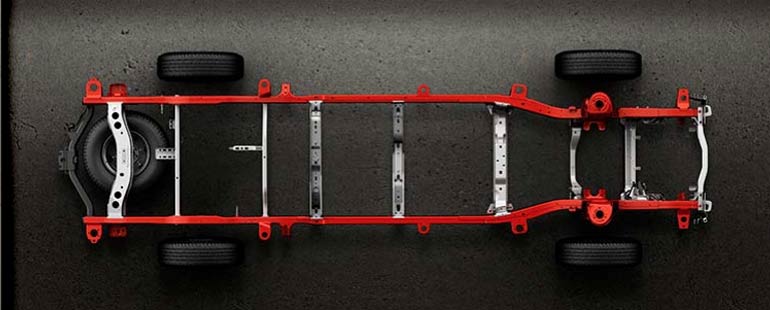 A frame designed to handle the stress of any trip
The new NV Passenger Van's full-length, fully boxed ladder frame is strong enough to handle large loads. The result: a firm and confident feeling behind the wheel regardless of what you're transporting.

Access the engine outside of the cabin, not in it
Unlike traditional passenger vans, the new NV Passenger Van utilizes an SUV-like design. This means mechanics can perform service more easily and quickly without having to enter the vehicle.

The NV Passenger van. Innovation that works. Call Conicelli Nissan at 1-888-Coniceli for more information on this or other Nissan vehicles.