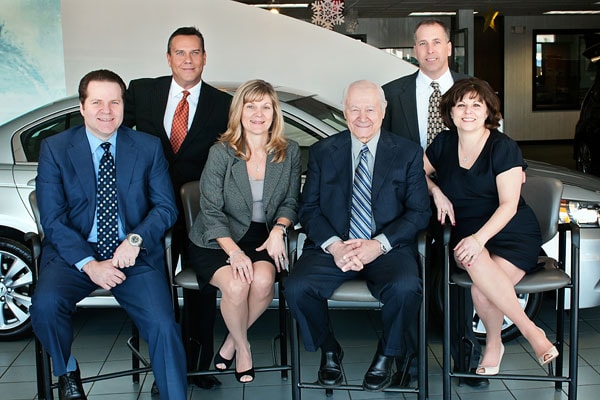 Left to right: Dom Conicelli, Jr., Michael Hammond, Lori Hammond, Dom Conicelli, Sr., Brian McNally, and Donna Conicelli.


About Conicelli Nissan: Where a Nice Experience is Guaranteed
When our founder, Dominic Conicelli, began his career in the auto industry more than 50 years ago, his goal was to exceed customers' expectations for extraordinary service. While the auto industry has drastically changed with time, this goal still holds true. Each day, the Conicelli family aims to please customers in every aspect of the automotive business. 
The friendly staff at Conicelli Nissan aspires to treat each customer the way we would want to be treated. It sounds simple, but this is how we maintain our reputation as "A Nice Place To Do Business." Whether you're interested in buying or leasing a new car or used car, our eager sales staff will dedicate their full attention to best serving you. Only after an informative discussion about your wants, needs and budget will they put you in a new Nissan Altima, a used Nissan Pathfinder or whichever other Nissan vehicle pulls you in. Even after purchase, we'll continue to care for you and your vehicle with our exceptional service and parts centers.
Since several members of the Conicelli family work at our array of Pennsylvania dealerships every day, they can ensure the whole team continues to uphold Dominic Conicelli's high standards and original business model for a dealership dedicated to the customers. We recognize that we wouldn't be where we are today without our loyal customers who kindly spread positive reviews about our Nissan dealership near King of Prussia, consistently pushing us to maintain our rankings among the country's best sales and service teams. We welcome you to experience the Conicelli difference for yourself at our Nissan dealership in Conshohocken. 
A Brief History of
Conicelli Autoplex and our Family

Dom Conicelli, Owner and Dealer Principal, was born and raised in Conshohocken, PA. He graduated from Villanova in 1954, and began his career with General Motors. In 1957, he started his own business called Hy-Speed Auto Sales. In 1963, the name was changed to Carriage Trade Auto Auction
, which is still in operation today.
Since its founding in 1982, the Conicelli Autoplex has expanded until now to comprise Honda, Toyota, Nissan, Hyundai, and Genesis dealerships in Conshohocken, PA, and Conicelli Toyota of Springfield, PA.
Many members of the extended Conicelli family are actively involved in managing and operating the business, among them:

Dom Conicelli
President



Michael Hammond
Vice President, Sales and Marketing





Lori Hammond


Digital Director



Donna Conicelli


Human Resources Manager






Brian McNally

General Manager, Carriage Trade Auto Auction

T.J. Smith

Business Operations Manager

 

Mark McDonough

Fixed Operations