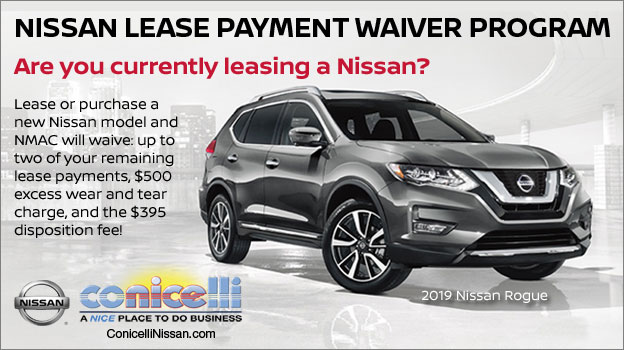 Nissan Loyalty Programs
Eligible NMAC customers, return your leased vehicle prior to maturity date when you purchase or lease any 2018, 2019, or 2020 new, unregistered Nissan financed by NMAC, based on conditions listed below.
Eligibility: Current NMAC lessees with an original scheduled maturity date between May 1, 2019 and June 30, 2020, for all Nissan models (except Leaf).
Eligible lessees will receive one or more of the following:
1-A waiver of up to two remaining payments due on the eligible NMAC lease (past due payments and other charges will not be waived).
2-A waiver of up to $500 in excess wear and use charges on the eligible NMAC lease, if applicable.
3-A waiver of the $395 disposition fee on the eligible lease vehicle, if applicable.
Eligible lessees must return their current lease vehicle and sign a new contract with NMAC between April 2, 2019 and July 1, 2019.
Please contact Conicelli Nissan at 610-825-4200 for more details on this offer.